Today I decided to join in on the wedding day link up with
Melanie
and
Holly
! I had my wedding before I even knew that blogs were a thing, and definitely before the days of Pinterest.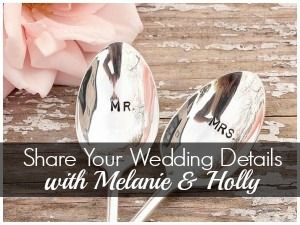 I decided to start with the proposal story, since it was a rather unique one...
I always used to steal Will's change out of his pockets when he got home from work (what can I say, I was a poor university student). He came upstairs one day and I could hear the jangle of change in his pocket, so I reached in and pulled it out. Mixed in with the change was a ring. I just stared at it for a minute then looked at him and said "is this for me?!?". He put it on my finger, and that was that!
We got married 10 months later on August 28, 2010- exactly four and a half years to the day after we started dating!
Location:
We had the ceremony in my parent's backyard- it was the perfect setting! We were blessed with amazing weather- the next day it absolutely poured all day long!
We had our reception at a local hall for a number of reasons, the most important reason being they have the best spaghetti and meatballs in the entire world... didn't really think about that fact that I would be wearing a white dress and eating spaghetti. Luckily for me I didn't end up dropping any in my lap :)
My brother enjoying his dinner
I wish I knew what we were cackling at!
Bridal Party:
My maid of honor was my friend Kirsten who I've been friends with since grade 3. The rest of my bridal party was made up of my friends Ali and Michele, my sister Lindsey and Will's sister Erika.
We had way too much fun taking photos!
Kirsten, Erika, Lindsey, Moi, Michelle, Ali
Will had his friend Simon as his best man. The rest of his party was made up of his friends Marshall and Tyler, his brother Scott, and my brother Jordan.
Scott forgot his sunglasses in this one!
Jordan, Tyler, Will, Simon, Mashall, Scott
One of the whole wedding party!
First dance song:
We danced to "Then" by Brad Paisley. It was the perfect song, and I'd still choose that one if I had to do it over again!
The dance floor was packed from the start of the dancing until 2:00 when we got kicked out! It was the most amazing night ever, and honestly, I wouldn't change a thing!!
Some of my favorite photos from the day:
Dad, Me, Mom
Will and his parents
I'm laughing in the majority of the pictures that we got back
Love this one!
No clue what's happening here!
He's heavier than he looks!
To finish up this post, I leave you with some photos of the rehearsal dinner... becasue no rehearsal dinner is complete without shooting clay pidgeons right?
Can you say Redneck?